Hey! Wow. It's so hot. Not the weather to be baking really- but we all need eat cake sometime! So on the theme of baking and welcoming this little card is a new home card. Another project in my mini series of using Avery Elle's 'Oh Baby'. Aka 'thrashing the living daylights out of one solitary set of stamps'!!
I hope you've seen how versatile one baby set can be- I can't tell you how much I've used this set already - for so many different occasions and not one has been to welcome a new baby ;-)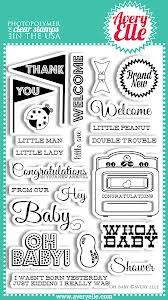 I know you've probably seen the set already- but thought I'd post it for any new readers & just to remind you of its supreme gorgeousness! I've masked off the congratulations sentiment near the bottom so it wouldn't show through & then used the sentiment over the heart in the oven.
The bottom edge of this clean and simple offering (its so clean there's hardly anything on the card and it's so simple my 5 year old could do it) is a smidgeon of Lawn Fawn papers- these ones..
The little bow has been coloured in and then some of the colour 'pushed' away with the colourless blender pen. I love making little details on my projects using this handy little pen.
Anyhow- better dash..
see you next Tuesday.. and I promise to use another stamp set ;-)