Hi there, it's
Ruby
. I hope that if you're having snow it's not causing you too much hassle. We have been stuck in a couple of times but I decided to use it as an opportunity to wind down a bit and learn some crochet. It's been on my to-learn list for-ever! So far I can do a flower and a granny square!
Today's card is for a lovely lady I haven't known very long. She is the most generous, kind, and fun person I've ever met. So very knowledgeable, I feel really privileged to have met her. She has been giving me lots of her time and guidance recently so I wanted to make her a little thank you. I thought this proud peacock was up to the job!
I used
Paper Smooches My Peeps
. For the top left I just stamped the one feather five times to make that five arrangement and coloured it in. For the beautiful peacock I used the following sets;
First fan: 5
Second fan: 2, 3, 2
Third fan: 2, 2, 2, 2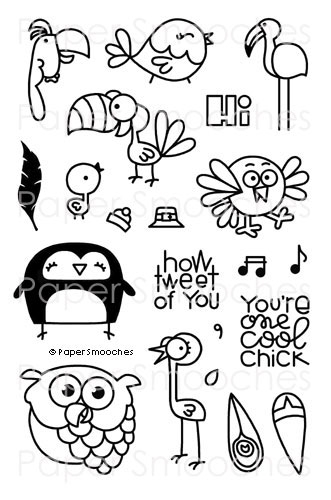 As you can see the sentiment is from this set too. I need to use the Owl. My friend coloured him the other day in the most beautiful colour variations, must play!
I used the following Copics:
G09, G05, G03, G02
YG25, WG23, WG21
V09, YR30
Stay safe and cozy!