Good morning! It's
Ruby
here.
What's your weather like? It's been foggy this morning but the sun is starting to break through and it's looking like a really lovely day ahead of us. I love it when the sun shines, it makes such a difference to how we feel.
I went for a bit more elegant this week. I've been doing a lot of cute lately so thought I'd go floral for a change.
Using this fab set 'Framed Fonts' from
Avery Elle
I just stamped the frame and wording onto some patterned paper and cut around it to make a label that I pop dotted. I added some little banner detail to the bottom left and a tiny flower to finish.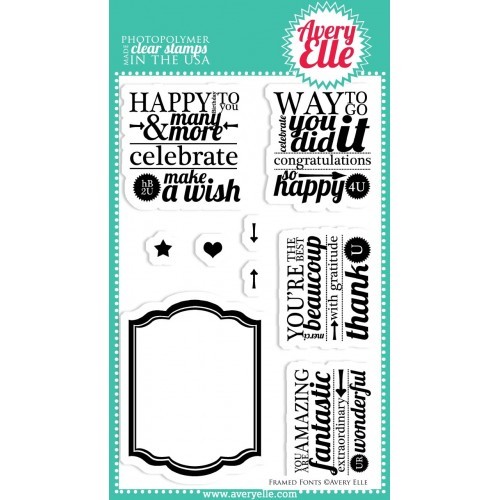 These would be great cards to make up with all of the different sentiments and have as a backup. It's a really useful little set. I think these cards would even make a nice little gift card pack to give to someone so that they always have a card on hand.
Note to self: Must add that to my to do list for myself, I never seem to have cards for me to give at the last minute!
Hope you have a lovely sunny day wherever you are too. If you're a Mummy I hope you've got some lovely stamps on that present wish list of yours!! If not, treat yourself, you deserve it! We do a lot for our bubbas and deserve to be kind to ourselves every now and then :)
Have fun!