Good morning & Happy Tuesday.
Guess I should introduce myself really.
I'm Keren & you can normally find me
here
. I'm joining the rapidly expanding group of girls (& not their waistlines- just the number!) on this Design Team. Whilst I'm no stranger to stamping, I've only recently found Make The Day Special (I know, where
have
I been looking?!).
Suffice to say,
'Big Thanks'
are due to Lou for inviting me.
Onto the important stuff-
Firstly, this stamp set is from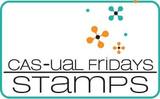 If you are looking for a fantastic clean and simple style set of stamps- then have a nosey. There's bound to be at least one that you fall in love with.
The papers are from Lawn Fawn
here
The big flower (to match the 'big' sentiment) was just lots of little squares of Lawn Fawn paper, trimmed into a square-ish petal shape, rolled & then just glued around a tightly rolled inner petal. It's exactly the same technique as used to make sugar paste icing flowers. The leaves are cut freehand too. The flower is a little fiddly but well worth the final result. Just try and fit this card into an envelope!!
Looking forward to 'seeing' you again next week,
Keren x