Hello there...
As the title suggests I decided to have a play with the Paper Smooches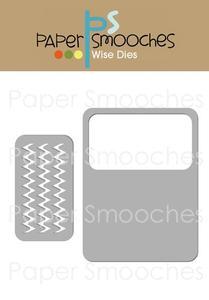 It's actually a versatile shape with many creative uses and you can let your
imagination run with it :0) I find the easiest thing to do is cut out the pieces in scrap card
so you can play with the shapes and stamps to generate some sparks of creativity.
I don't know about you but when I was a child I used to love, and still do, a new pack of coloured pencils or crayons... all those rainbow colours and sharpened points, not to mention the lovely smell so seeing the window in the larger die, I set about stamping the pencils from
I Heart Art
in a rainbow of colours to make a teacher thanks card.You can use the same die for the acetate and base layer and just turn them upside down so the window is hidden at the base of the box.
I added shading to the pencils with coloursoft pencils so they look more 3 dimensional and cut them out all together in one piece :0)
I also wanted to use the zig zag shapes in the smaller die... these little pieces can be so fun to play with!!
By cutting the panel in three different blues I could make this pattern, the zig-zags fit snugly together and each die cut actually gives you 5 strips by snipping out the remaining two zig-zags from the panel when three have been removed.... neat eh??!!
I needed to make a card with a specific request for a seal on it and I thought this pattern would make great looking water in an ice hole for Mr Seal... I think he looks quite happy perched there :0)
Has that got you thinking?? I have a couple more ideas that I want to turn into cards this week to show you next Saturday, hope to see you then !!
Thanks for stopping by