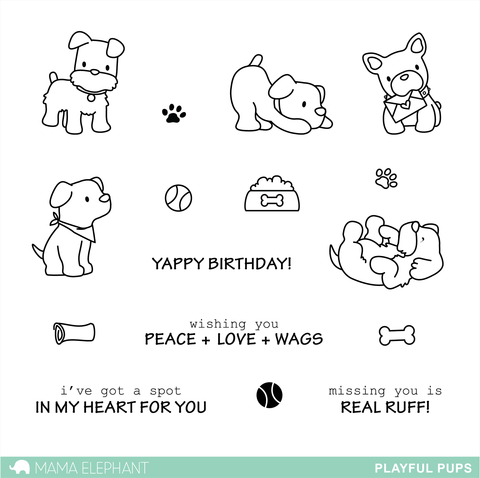 This is the set I've used and its due back in this week in store. If you need to be creating a fun canine (or other animal) scene right NOW, I've picked out a few in store for you that you might have missed.
So, back to the card.
It started with a scrap.
So do many of my cards!
The blue piece I'd cut for something else and plonked it on a card base and started playing around. I'd stamped and coloured the woofers in a watercolour marker and started arranging them sticking out from the piece.
Then I wanted them to be a little more tied in with the elements. One of the bottom right dogs is stuck behind the piece but the top ones didn't feel right. So I chopped into the shapes to slot them onto the top. You can see in the next photo that i've simply followed the image outline and this meant I could slot and attach them easily.
Unusually, I've added an even number of dogs. I never do this normally, but for some reason, it seems to work. 5 dogs in the lower right space seemed too many. Anyone any idea of why an even number seems to work here, please let me know, I'm all ears (doggy ears!!).
Better go, I've my own scruffy canine to tend!
See you next week,
Keren xx