Hi, it's
Ruby
. My post today is a bit of fun for my man! He will think I'm totally mad, but often he says that's why he loves me, for my quirkiness. Here's hoping that continues after this…
Hopefully it will make him smile too when I present it to him in a glass of something. I think we often take life far too seriously, we need to add in some of that childlike fun back into our lives. Here's mine, wish me luck. He will either think it's funny or will get me certified as totally mad! If you don't hear from me again you'll know why lol.
I used
Lawn Fawn's Love 'n' Breakfast
set, it has some adorable little brekkie images.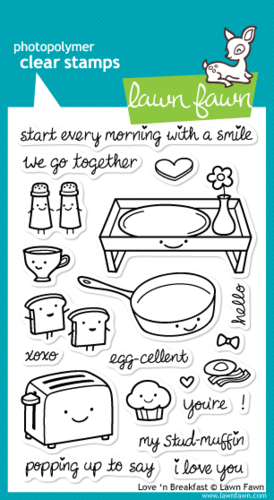 You can use them for all sorts of things.. I've used it to congratulate someone on losing lots of weight, Get Well cards, Valentines and my friend even made us a Wedding card using the toaster, the toast, salt and pepper to build up a little scene. It was adorable.
Copics:
R20 (cheeks), BG10 (outline), R39, R27, R24 (heart), YG05, YG03, YG01 (cupcake case) and YR30 and YR31 for the cupcake.
Hope you get time to play.
Have fun!