Hello, Jenny here :0)
Deciding which new stamp set to play with for today was the hardest decision, making these two cards was great fun though.
I love the 'hand-drawn' images and sentiments in the
Neat &Tangled
line of stamps... they remind me of illustrations in paperback books and that gave me the inspiration for this first card using '
Just for Fun
'.....
I'm not sure if the two 'present' images are supposed to go together but they work well to acheive the 'off set' look and I did the same for the small piece of confetti, deliberately stamping the outline out of line!!!
I pinched a blank page from an old paper back book for this card and I wasnt sure how the ink would absorb into the surface.... I was happy to see that it worked well apart from the happy banner so I stamped that again separately and layered the piece on top :0)
My second card uses the solid balloons from the same set and a bit of masking masking.....
Rather than stamping the sentiment over the balloons I wanted a masked area so I first stamped the 'Celebrate' on masking paper and trimmed it out before applying it to the panel then stamping the balloons. The strings are hand drawn for these balloons.....you can always lightly draw them in pencil first if you suffer from a shaky hand in these instances.... advice I should take as some of mine look a bit dubious!!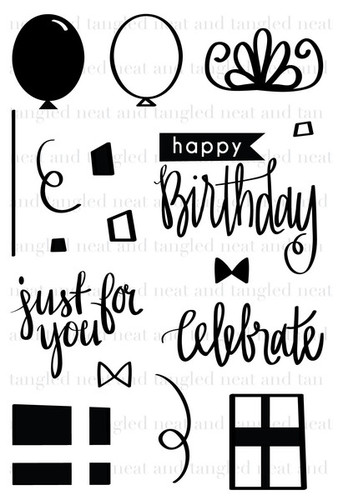 Just thought I'd mention the new
Paper Smooches Sparks
challenge that started yesterday, it's a sketch this week and here's a peak at my card...
Check out all the details
here
and come play along too :0)