Good Morning... Jenny here, I'm book-ending the working week here at Make the Day Special :0)
Yesterday saw the new release from
Sugar Pea Designs
, have you seen the new stamp sets in the store??
I've used the brilliant set called
Spare Me
to make a CAS card... this is one of those fab stamp sets that's ideal making cards for any age or sex...I mean, who doesn't like a game of Ten Pin Bowling!!???.....
Instead of some complicated masking I decided to stamp and cut out 10 of the larger pins... they really are an easy shape to cut repeatedly and much easier than masking all those pins for a one layer card!!!
The funky retro shapes make a great backdrop for the strike and it was great fun working out the placement for those tumbling pins too.
A TOP TIP : When trying to work out the placement for images like this I use the camera on my phone to take a snapshot when I'm happy with the arrangement. Then I can work from that photo to adhere the pieces in their final position :0)
I love thos funky retro star bursts... they inspired me to generously coat the bowling ball with my Wink of Stella brush pen for some lovely shimmer :0)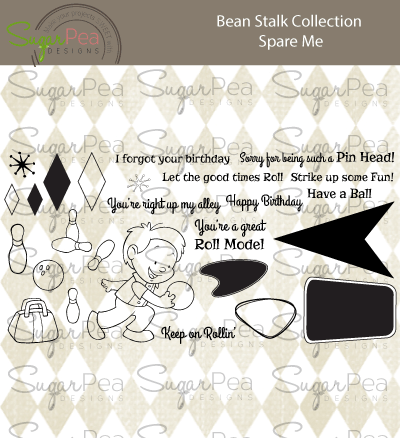 Don't forget to check out this months
Sugar Pea Designs
release and I'll be back on Monday, see you then :0)
Jenny x