Happy Tuesday..and Happy April too!
It's totally blooming where I live. Awash with bursts of blossom & vivid colour. I just love this time of year. I wanted to get this flower filled set inky & do something a little different with it. Instead of just inking & adding the banner, I wanted it to be all inclusive (but good, not like those nasty all inclusive cheap holidays!!). In order to do that, I had to do quite a bit of masking, plenty of careful trimming & lots of different hues of leaves. I love the brightness & the clarity of the colours (thanks to the fab quality of these stamps).
The set is Penelope's Blossoms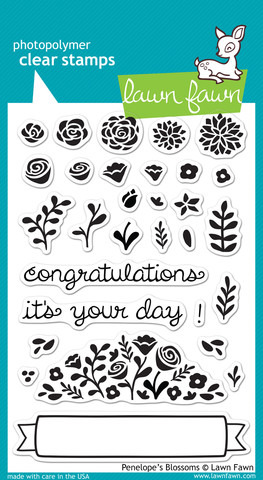 and you can see the ton of potential in the set. This card was perfect for Mother's Day but could double for a Birthday too.
I had made a mistake when stamping (you can see it on my blog) but due to a cover up, you can't see it. Can you guess where it was?!!
I'm off to smell the flowers (with the hope I don't start with the hayfever!!)
See you next week,