I love travelling. Haven't been globe trotting much.
I've been to a few choice places including a moment of madness taking 2 small kids to Benidorm. ( shudders at the memory).
However, this little card is perhaps best saved for a more classy journey ;-)
I realise you wouldn't normally put travel and thanks together per se but I'm sure you could find an occasion; a pen-pal's visit ( does anyone have these anymore or was it simply a relic from the 80's?!), or a thankyou to a hostess you stayed with etc.
I've used Big Thanks to create all the thankyou sentiments on the suitcase & the smidgeon of the plane that you can spy is from Mr Boy
.
Now Big Thanks is so popular that it's slipped out of stock- but don't fear- there are other lovely sentiments that would work perfectly for this card like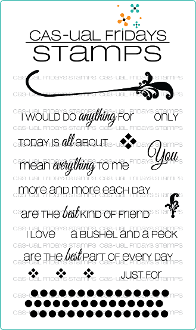 Just shows that you can really mix up sets that wouldn't normally go together. The little map pieces are from a very old US & Canada road map. Have a go at mixing up two unrelated sets & see what you come up with. Come and post a link to what you create. I'd love to see!
See you next Tuesday,