Hello there and happy Monday :0)
We are on our family Hols this week so last week was a little hectic to say the least, crafting took a back seat so for todays card I thought I'd share a recent publication in Craft Stamper magazine...
This one layer card uses the yummy macaroons from
Avery Elle's Bonjour
set, I took a folded card base and stamped them up the open edge in a very precarious stack I have to say!! I've used the large solid image for this with Stampin Up ink and then, using a slightly damp waterbrush, I added extra colour for shadows and infilled the centres with matching colour cream too *yum yum*
To make them look even more 3D I used a pale neutral colour ink (Sahara Sand) and a waterbrush to paint a shadow behind the stack to the left and trimmed around the right hand side to make a fancy shaped edge to the front of the card. This isn't watercolour card so I had to take care not to use my paintbrush with too much water otherwise the card would pill and buckle!!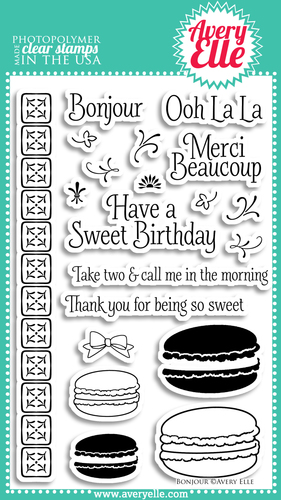 Just a reminder the new challenge is Anything Goes challenge at
Paper Smooches Sparks
and this is my DT Inspiration card ..
Catch you next week :0)