Hello there :0)
I'm a little later posting today.... trying to get back into my groove after a fun weeks holiday with the family :0)
Whilst I was away I see the fab new
Altenew
stamps arrived in store so I thought I'd get mine inky to show you one of my fave's from the first release.....
Yep, it's those stick people in
Figure Effects
!!! these two imparticular grabbed my attention as they look like they are high 5'ing and CASual Fridays stamps have just the right sentiment to go with them for a simple CAS card :0)
What I like about these figures is that they are individual stamps which adds to the versatility of this set....move them around and add the young lady figure and you have yourself a party going on.....
They're cutting some fine dance moves and again a sentiment from the same
CASual Fridays
set
Woot Woot
is the perfect match :0)
After embossing them in white I stamped some musical notes and stars with Versamark ink along with an oval shadow to ground these guys... a generous coating of sparkle adds to the party feel :0)
I have plenty of ideas for the other figures on this set and the sentiments are great too..... perfect for those clean and simple cards !!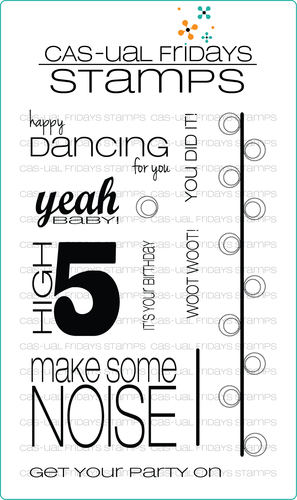 Thanks for stopping by today, catch you next week :0)
Jenny x