Hi there :)
I have a few extra decorations to add to my Christmas tree this year thanks to the
Pierced Snowflake
dies from MFT. They are just gorgeous dies, there are three different shapes and sizes with beautiful pierced detail patterns on them.... I made two sets to show you just how lovely they are...
The first set are cut and layered brown card stock with the top layer of the stack cut from the
Peel and Stick Wood Veneer
paper in store... these are my favourite as the colours and texture are what Christmas is all about to me :)
I think I layered at least four brown snowflakes plus the wood paper layer... this gave them enough thickness and of course they are super lightweight too :)
I have inked the edges of the wood paper with dark brown ink but you could easily go to town with white gel pen highlights instead and give them a very Scandinavian feel. The greenery at the top is made using the
Under the Mistletoe
dies from Wplus9..... I cut a few branches from card in two different greens, trimmed them into smaller segments and arranged them on the tops of the snowflakes. The red berries are dots of red liquid pearls but glitter glue or small gems would work too :)
The second set are more traditional snowflake colour and texture......
...for these I cut and layered white card with a glitter paper as my top layer..... if you wanted you could have a glittery layer on the back too... easy to do as they're symmetrical :)
To stick them together I used little spots of wet glue as it gives you extra wiggle time to line the layers up ;)
For these, I just felt a white ribbon bow and silver bells finished them off perfectly... I used white thread and a needle to attach the bells to the bows.
This little project was a whole lot of die-cutting but totally worth it... oh and be prepared for your desk and floor being covered in all those little waste shapes that pop out of the snowflakes too!!
These were tricky little things to photograph staggered on the branches and the gloomy weather didn't help so I put them onto patterned paper for a group shot ;)
I'm sure you can think of lots more materials and themes for these dies and of course you can easily match them to your own Christmas colour scheme by making them yourself ...... or how about making them as a gift for friends and family on the run up to Christmas :)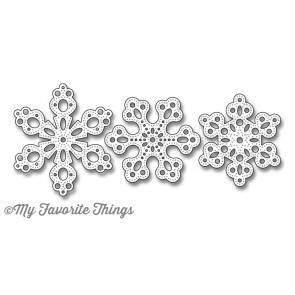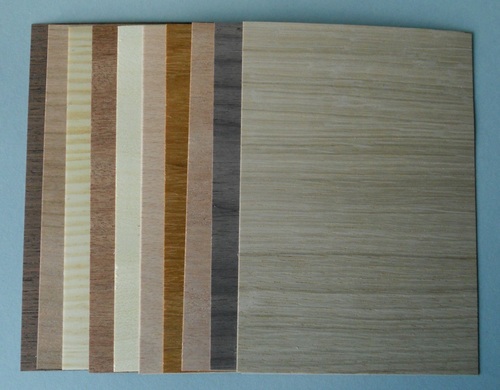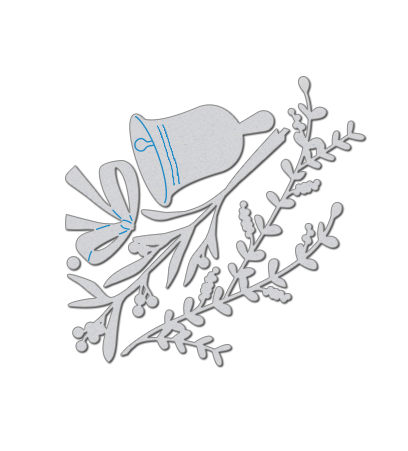 Thanks for stopping by :)
Jenny x