Hey!
Ever feel a little blue and need some encouraging words? Or maybe you've a friend who really needs a lift..well this set is just perfect for those occasions using WPlus9's Encouraging Words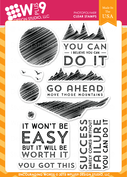 See the hills- the third one down? Turn it over and then stamp the edge again on a 90 degree angle against the first stamping and you get...a origami-ish looking bird. Kinda a little Jurassic World too.
But, you don't need to mess around with the set..you can just stamp it plain and simple.
I've done a dual colour on the mountain stamp by adding ink to one half and then turning the stamp and inking with a different colour. The sentiment could have been stamped and embossed in white except I wanted a really soft subtle feel to the card
The background was simply distress ink, sponged through a die cut aperture. Really simple. I had the idea of creating a earth-like pattern, but the detail was lost through the vellum.
Do check out this set- it's perfect for one layer cards- really easy peasy.
Hope you have a really lovely day!
Keren x