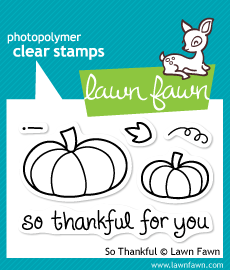 So sorry for being a little later than usual but I was waiting for the weather to cheer up a little to take a photo but alas it looks like it's going to stay miserable all day (so sorry for all the white in the photos background I was trying to get as much reflection as I could).
For my card today I have used on of the little tiny sets from Lawn Fawn 'So Thankful....
This is such a cute little set and although I'm not a huge fan of the taste, I still love the look of these orange beauties! There is something about these orange (or even green) spherical veggies that makes me feel all cozy and autumny inside.
Even though this is a small set it doesn't mean that these sweet images can't be layered up, either masking them or layering up using foam dots- have I used the later technique for my fun little pumpkin patch....
I have used my Copics to colour in the pumpkins. to create the shadow I stuck them down using foam pads and then used a grey Copic behind to add the dimension.
Hope you likie, see you next week!!
Hugs, Lydia xxxx
PS. There is still a Wplus9 pre-order going on so if you wanted anything from the last 2 releases make sure you head on over to the Make The Day Special store and get your order in.